2020-08-03 12:35:00
UAE NUCLEAR POWER
PLATTS - 01 Aug 2020 - The UAE, OPEC's third-largest oil producer, started producing nuclear energy from a 1.4 GW nuclear reactor, becoming the first country in the Gulf to use such a source for power generation.
Nawah Energy Co. started up Unit 1 of the Barakah nuclear energy plant in the oil-rich emirate of Abu Dhabi., its parent Emirates Nuclear Energy Corp. said Aug. 1 in a statement.
The start-up follows the granting of the operating license from the Federal Authority for Nuclear Regulations in February, and the completion of fuel assembly loading in March, it said.
"After several weeks and conducting numerous safety tests, Unit 1 will be ready to connect to the UAE's electricity grid, delivering the first megawatts of clean electricity to the homes and businesses of the nation," ENEC said.
Start up had been delayed since 2017 following the start of the building process in 2012.
Once all four reactors are up and running, the plants will supply up to 25% of the UAE's electricity needs or 5.6 GW.
"ENEC recently announced the construction completion of Unit 2, with operational readiness preparations now underway by Nawah," it said. "Construction of Units 3 and 4 of the Barakah nuclear energy plant is in the final stages, with the overall construction completion of the four units now standing at 94%."
The UAE, which currently relies mostly on natural gas for power and water generation, is adding renewables and nuclear power to its energy mix as it frees up gas for consumption in industries and other sectors.
South Korea's KEPCO in 2009 won a $40 billion deal to construct the nuclear reactors.
-----
Earlier:
2020, June, 1, 10:30:00
UAE OIL PRODUCTION 2.4 MBD
The UAE, which pumped a record 4.1 million b/d in April, has also pledged to trim an extra 100,000 b/d in June, on top of its OPEC+ commitments,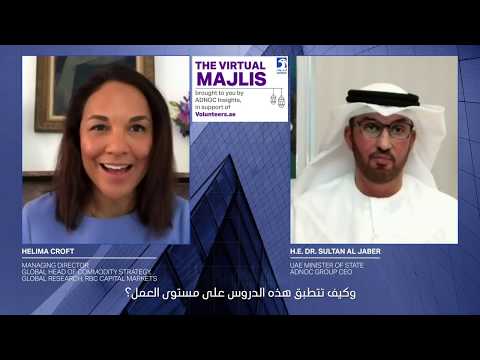 2020, May, 22, 13:17:00
OIL MARKET BALANCE
"When it comes to oil, there are signs that the market has tightened in recent weeks. The OPEC+ agreement, voluntary cuts outside OPEC-++, and production shut-ins are working together to start to rebalance the market. This will take time. As economies begin to open up, demand will follow, but the path to the next normal is not a straight line," Dr. Sultan Al Jaber, CEO of ADNOC Group and UAE minister of state said.
2020, April, 29, 12:15:00
UAE SOLAR POWER PRICE DOWN
UAE, Abu Dhabi Power Corporation (ADPower) announced, today, the world's lowest tariff for solar power.
Tags:
UAE
,
NUCLEAR
Chronicle:
2021, July, 9, 12:00:00
ARGENTINA'S NUCLEAR SMR
Before work was suspended, it was in line to be the world's first operating SMR. The government licensed it as a prototype in 2009.
2021, July, 9, 11:55:00
CHILE'S COAL GENERATION DOWN
In June 2021, the Chamber of Deputies of Chile has approved a bill that prohibits the installation and operation of coal-fired power plants.
2021, July, 8, 12:50:00
OIL PRICE: NEAR $73
Brent slipped by 23 cents, or 0.3%, to $73.20 a barrel, WTI were down 33 cents, or 0.5%, at $71.87 a barrel.
2021, July, 8, 12:45:00
OIL PRICES 2021-22: $72-$67
We expect rising production will reduce the persistent global oil inventory draws that have occurred for much of the past year and keep prices similar to current levels, averaging $72/b during the second half of 2021 (2H21).
2021, July, 8, 12:40:00
EUROPE CLIMATE RULES
According to draft proposals seen by market sources, the CBAM will replace the current system of free carbon allowances for metals sectors, and tighten allowances in the European Emissions Trading System generally, a bone of contention for some.
2021, July, 8, 12:35:00
ASIA INDEXES DOWN ANEW
The Hang Seng index (.HSI) led losses with a 1.9% drop, its eighth consecutive session in the red, with more falls in internet giants Tencent (0700.HK), Meituan (3690.HK) and Alibaba (9988.HK) as the sector reels from sweeping Chinese regulatory scrutinty.
All Publications »