2020-09-04 12:25:00
U.S., IRAN, UAE, CHINA SANCTIONS
PLATTS - 03 Sep 2020 - The US government on Sept. 3 sanctioned 11 entities based in Iran, the UAE and China for continuing to facilitate sales of Iranian petrochemical and oil products.
The move is the latest in the Trump administration's efforts to clamp down on illicit flows of oil and petrochemical products from Iran to China.
The Department of the Treasury accused six of the firms of helping Hong Kong-based broker Triliance Petrochemical continue sales, including efforts to "hide or otherwise obscure its involvement in sales contracts." Treasury sanctioned Triliance in January.
Treasury sanctioned Iran-based Zagros Petrochemical; UAE-based Petrotech and Trio Energy DMCC; and Hong Kong-based Jingho Technology, Dynapex Energy and Dinrin.
The Department of State separately sanctioned five firms for "knowingly engaging in a significant transaction for the purchase, acquisition, sale, transport or marketing of petroleum or petroleum products from Iran." Three employees of the companies were also sanctioned.
State sanctioned Iran-based Abadan Refining; China-based Zhihang Ship Management, New Far International Logistics and Sino Energy Shipping; and UAE-based Chemtrans Petrochemicals Trading.
"The Iranian regime uses revenue from petrochemical sales to continue its financing of terrorism and destabilizing foreign agenda," said Treasury Secretary Steven Mnuchin. "The Trump administration remains committed to targeting those contributing to Iran's attempts to evade US sanctions by facilitating the illicit sale of Iranian petroleum products around the world."
Treasury said Tehran-based Zagros Petrochemical agreed to sell Triliance hundreds of thousands of metric tons of petrochemicals in March. Triliance used UAE-based Petrotech as the purchaser for documents to hide its involvement and directed other companies to bill Petrotech, Treasury said.
Treasury said Triliance used UAE-based Trio Energy DMCC to broker the sale of tens of thousands of metric tons of petroleum products.
Triliance used Hong Kong-based Jingho Technology and Dynapex Energy to facilitate the shipment and resale of tens of thousands of metric tons of petrochemical products worth millions of dollars, Treasury said.
Treasury accused Hong Kong-based Dinrin of helping process millions of dollars in proceeds of Zagros' oil product sales to Asian companies.
In January, Mnuchin said Chinese state-owned companies had stopped buying Iranian oil, suggesting that only independent refiners continued making the purchases. He added that the US was "working closely with [China] to make sure that they cease all additional activities [with Iran]."
In September, Treasury sanctioned six Chinese entities and their top executives, including two affiliates of Cosco Shipping, for trading oil with Iran in violation of US sanctions. The US previously sanctioned China's state-owned trading company Zhuhai Zhenrong and its top executive for oil trade with Iran.
-----
Earlier: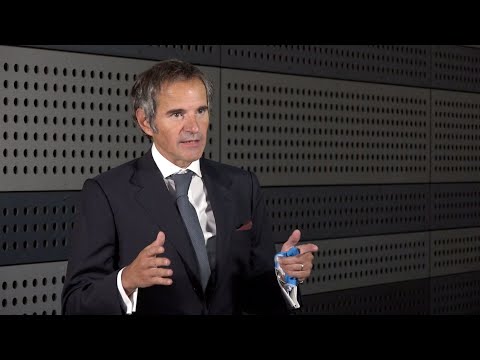 2020, August, 28, 15:27:00
IAEA, IRAN COOPERATION
The International Atomic Energy Agency (IAEA) and the Islamic Republic of Iran (Iran) agreed to further reinforce their cooperation and enhance mutual trust to facilitate the full implementation of Iran's Comprehensive Safeguards Agreement (CSA) and the Additional Protocol (AP) thereto, which is provisionally applied by Iran since 16 January 2016.
2020, August, 26, 13:05:00
IRAN, IAEA COOPERATION
Grossi reportedly said: "The IAEA will not succumb to outside pressure over Iran. The agency is not swayed by any third party, but naturally there is some pressure which the agency will not bow to …
2020, August, 25, 14:25:00
IRAN'S GAS PROJECTS $5.5 BLN
Iranian President Hassan Rouhani has inaugurated three major gas projects worth over $5.5 billion
All Publications »
Tags:
USA
,
IRAN
,
UAE
,
CHINA
,
SANCTIONS
Chronicle:
2021, July, 9, 12:00:00
ARGENTINA'S NUCLEAR SMR
Before work was suspended, it was in line to be the world's first operating SMR. The government licensed it as a prototype in 2009.
2021, July, 9, 11:55:00
CHILE'S COAL GENERATION DOWN
In June 2021, the Chamber of Deputies of Chile has approved a bill that prohibits the installation and operation of coal-fired power plants.
2021, July, 8, 12:50:00
OIL PRICE: NEAR $73
Brent slipped by 23 cents, or 0.3%, to $73.20 a barrel, WTI were down 33 cents, or 0.5%, at $71.87 a barrel.
2021, July, 8, 12:45:00
OIL PRICES 2021-22: $72-$67
We expect rising production will reduce the persistent global oil inventory draws that have occurred for much of the past year and keep prices similar to current levels, averaging $72/b during the second half of 2021 (2H21).
2021, July, 8, 12:40:00
EUROPE CLIMATE RULES
According to draft proposals seen by market sources, the CBAM will replace the current system of free carbon allowances for metals sectors, and tighten allowances in the European Emissions Trading System generally, a bone of contention for some.
2021, July, 8, 12:35:00
ASIA INDEXES DOWN ANEW
The Hang Seng index (.HSI) led losses with a 1.9% drop, its eighth consecutive session in the red, with more falls in internet giants Tencent (0700.HK), Meituan (3690.HK) and Alibaba (9988.HK) as the sector reels from sweeping Chinese regulatory scrutinty.
All Publications »